The larynx (or voice box) is a structure located in the throat that helps direct air into the lungs and food into the esophagus. Its function is important in preventing food/water from entering the lower airways when swallowing. The larynx opening and closing is controlled by two small flaps called the arytenoids – these arytenoids close when we swallow food/water and open when we take a breath.
Laryngeal paralysis is when the nerves to one or both of the arytenoids become weakened or stop working entirely. This results in one or both of the flaps controlling the larynx to become paralyzed causing them to become slack. This causes louder raspy noise while breathing caused by the slackened arytenoids vibrating as air flows past them. Because of this weakening dogs can inadvertently swallow food or water into the lower airways resulting in coughing or even pneumonia.
The exact cause of laryngeal paralysis is yet unknown. It has been found that dogs with hypothyroidism are more prone to laryngeal paralysis. One study suggests that laryngeal paralysis may be part of a more widespread nerve degeneration; often times dogs with laryngeal paralysis also have weakness in the hind limbs.
Diagnosis of laryngeal paralysis is made by observation of the movement of the arytenoids as deep breaths are taken. This type of exam requires sedation. If one or both of the arytenoids appear slack the diagnosis is made. Occasionally chest x rays and bloodwork are also needed to better understand the situation.
Treatment of laryngeal paralysis is a surgical procedure called a laryngeal tie back or lateralization surgery. This surgery involves placing sutures to help reposition one of the arytenoids to open the airway. Unfortunately this surgery can present risks. Approximately 30% of dogs receiving this surgery will experience a complication called aspiration pneumonia in which food or water is swallowed into the lungs causing infection. Acute respiratory distress is another common complication of the surgery in which a patient will have difficulty breathing and may require an emergency tracheostomy to be placed (this is when a small hole is cut into the trachea below the surgery site to place a breathing tube).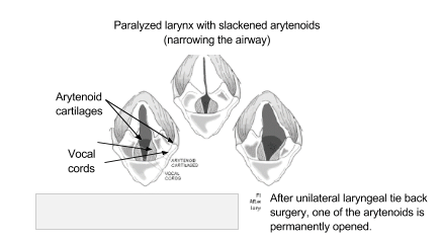 If laryngeal paralysis is not treated the risk of respiratory crisis can occur. If a dog with laryngeal paralysis gets excited or is exposed to warm temperatures, they will begin to pant. Panting will cause the slackened arytenoids to hit each other repeatedly resulting in potentially life threatening swelling of the throat that could result in overheating, lack of oxygen to the brain, and/or death.
Helpful tips for dogs with laryngeal paralysis:
Avoid stress to prevent excess panting
Keep pet in a temperature controlled, cool environment avoiding extreme heat
Use a harness instead of a collar to reduce pressure on the neck
Ask your veterinarian if anti-inflammatory or anti-anxiety medications could be helpful
Pursue surgical correction in a timely fashion to reduce risk of respiratory crisis