The Playground - Boarding & Daycare
Want to provide a home away from home for your pet while you are away?  Whether it's for the day while you are at work, or a longer stay, we provide lots of love, interaction, and exercise for your pet.  We offer VIP packages for pets to ensure they have a great stay.  From special treats to daily walks around Lodi, your pet will have fun while you are away.
The Lodi Vet Playground
With daily supervision by our veterinary care team, you can have peace of mind that your pet is well cared for.  Should your pet require medical attention during their stay, our veterinary care team will contact you and be able to provide any needed veterinary care.  We also offer boarding for pets with medical conditions, such as diabetes, that can benefit from monitoring by a veterinary team.
Boarding Check-In and Check-Out
Monday – Friday
8am-10am & 4pm-6pm​
Saturday
8am-11am
​Sunday
4pm-6pm
Daycare

​ Drop-off  and Pick-up 

Hours
Monday – Friday
6:45am-8:30am & 4pm-6pm
​Saturday – Sunday
Closed
Dog Boarding
The Playground can be your pet's home away from home while you are away. Whether it's for one night or an extended stay, we care about your pet's safety and comfort. Our guests are let out in our outdoor play areas 4-5 times each day to stretch their legs, exercise and go to the bathroom.  Feel free to bring their own bed and toys to help them feel at home. We also encourage bringing their own food and we are able to accommodate special dietary and medication needs.
VIP (Very Important Pet) Services:
Guests can enjoy VIP packages, including indoor/outdoor play area time with friends, long walks, or extra TLC.
Indoor/Outdoor Playtime
Let your dog burn off energy and play with friends during their stay with us. They can play outside on a nice, sunny day or enjoy playing in our large indoor play yard. Playtime allows them to play with toys, fetch and interact with their friends.
Long Walks
Your dog can enjoy long, private walks around Lodi to explore, see new sights, and stretch their legs. Walks are performed by our Playground team and are 20-30 minutes on the quiet sidewalks around Lodi. Dogs love the fresh air, sniffs and exploring around the town.
Extra TLC/Cuddle Time
This is perfect for pets that love more one-on-one time and snuggles from our team. Each session is 20-30 minutes with a team member in a private play area to focus on what your dog enjoys most. These sessions may include snuggles, treats or playing with toys – whatever your dog decides!
​Rates (per night):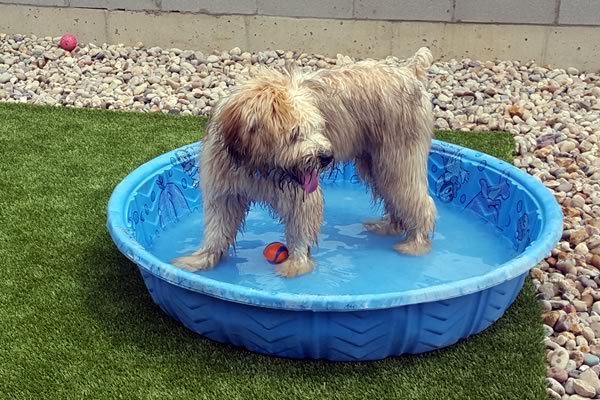 Adult Overnight Boarding: $27.75/night per dog
Adult Overnight Boarding – Sharing Kennel: $20.00/night per additional dog
Puppy Overnight Boarding (8-16 weeks of age): $50.15/night per dog.  *Price includes daily VIP*
Adult Overnight Boarding in the Hospital: $42.90/night per dog
Adult Overnight Boarding in the Hospital – Sharing: $26.95/night per additional dog
Dog Daycare

Drop your dog off at The Playground to spend the day socializing with other dogs, running around and burning off energy! Daycare guests enjoy supervised playtimes in our indoor and outdoor play areas, with a mid-day quiet time to promote relaxation.
​Day Stay: A great daycare alternative for those pets who need care and attention during the day, but may not enjoy socializing with friends. This service includes personalized kennel space with bedding, water, frozen Peanut Butter Kong, and food as requested. Each pet will have scheduled potty breaks throughout the day and receive an individual walk or cuddle time with a team member. This is separate from our regular daycare with playgroup and overnight boarding services.
​New Daycare Friends: If your pet is new to daycare at The Playground, the first 5-7 daycare attendances are considered a trial period as it may take some time for your pet to become acclimated to the daycare environment. During this time, your pet's behavior and play style will be evaluated by our team. This will enable us to determine whether daycare is a good fit for your pet, and if so, which group of friends he/she plays best with.
​We also offer puppy daycare for puppies up to 16 weeks old. Puppies in daycare will be walked and have play time every 2-3 hours to help adjust to being in a kennel, develop bladder and bowel control and get adequate social contact.
​Indoor play area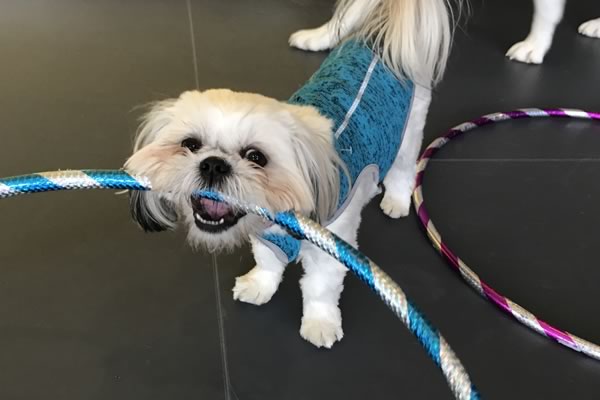 Specialized flooring to reduce risk of injury
Interactive games to promote play
Easy access to outdoor play area for needed bathroom breaks
Rates (per day)
Adult dog: $19.75
Puppy (<16wks): $23.50
​Requirements
Written proof of rabies, DHLPP and bordetella (kennel cough) vaccination
Intestinal parasite test record
Cat Boarding
Cats are housed separately in a sunny cat room. A spacious kitty play pen is available where your cat can relax throughout the day. Blankets, litter boxes, and food dishes are included in the boarding fees. Other items such as treats, toys, personal beds, and current pet food. Be sure to bring enough food for the entire visit. We recommend that you avoid diet changes if at all possible.
​Rates (per night)
Adult Feline Overnight Boarding: $19.75/night per cat
Adult Feline or Kitten Overnight Boarding in Hospital: $42.90/night per cat
Additional Services
VIP: $7.00 per cat
Nail trim
Requirements
Written proof of rabies and FDRC vaccinations
Intestinal parasite test record
Feline Leukemia vaccination is highly recommended
Urgent Care for Companion Animals & Emergency Services for Equine & Livestock | 608.592.3232 | 705 N MAIN ST LODI, WI 53555 lodivet@lodivet.com