Obedience Classes
We offer Puppy Kindergarten class designed especially for puppy owners to teach basic commands and to socialize their puppy to other dogs, children, and the veterinary hospital.
These classes are offered throughout the year at our Lodi location.  For more information please call our office or contact Maureen at mheider.lodivet@gmail.com.

Why do we recommend puppy kindergarten classes?
A puppy is always learning. It is up to you to teach them or let them teach themselves. If left to learn on their own, most puppies will teach themselves bad habits, such as jumping up, instead of sitting, or running away instead of coming when called.
Puppies are ready to learn about the world. Before they are four months of age is the ideal time to introduce them to new situations so they are not frightened later in life.
What do we do in kindergarten classes?
We start with basic obedience commands, such as: sit, down, come, and heel. We use treats and fun instead of force.
We socialize them to other dogs, children, and the veterinary clinic
We handle their head, feet, and ears in a pleasant fashion so that they learn to enjoy being touched
Most important: We have fun!

When should my puppy start classes?
We take puppies as young as 8-10 weeks of age, as long as, they have had at least one puppy DHPP vaccination. If puppies start training young, there will be less bad habits to break later. Puppies should be 16 weeks or younger at the start of our classes (unless OK'd by the instructor to be of a different age).
When are classes held?
Kindergarten classes usually meet on Thursday nights from 6:30 to 7:30pm at Lodi Veterinary Care. These classes run almost constantly through the year. Please contact Maureen at mheider.lodivet@gmail.com for more information and to get enrolled in our next session.
What do I need to attend class?
You need a healthy puppy between the ages of 8 and 16 weeks of age at the start of class (unless OK'd by the instructor to be a different age)
Your puppy needs to have had a least one puppy booster of the DHPP vaccine
Prior to enrollment, written proof of vaccination is needed, either by the breeder or veterinarian
Intestinal parasite test, showing your puppy is free from intestinal parasites
Bordetella (kennel cough) vaccine is required for attendance
A collar and leash for your puppy to help control them during class. Flexi or retractable leashes are not recommended
Your puppy's food or great tasting treats to use during class (i.e.: cooked chicken, hotdogs or cheese) to use during class. It is best to bring your puppy to class hungry so they are more willing to work for food
Do you offer adult dog classes?
This class is offered to dogs six months or older. This class is designed to teach your dog to be controlled at home and in public. A combination of rewards, corrections, and household rules will be used to train your dog.​
These classes are offered in the spring and fall on a limited basis at our Lodi location. Please contact Sara at shamilton.lodivet@gmail.com for more information on upcoming classes.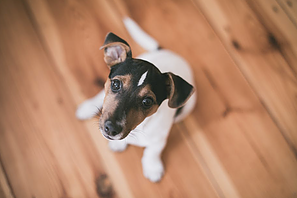 Using a travel kennel for your brand new puppy will prove invaluable. The puppy will look at the crate as a bed area which will aid in housetraining. The crate will also provide a safe place where your puppy will be unable to eat or chew unwanted items. When using...
24-HOUR EMERGENCY CARE | 608.592.3232 | 705 N MAIN ST LODI, WI 53555 lodivet@lodivet.com