Obedience Classes & School
We are happy to offer training classes for puppies and adult dogs year-round at our Lodi location.  We are also offer obedience school for dog that need more in depth, one-on-one training.  For more information please call our office at (608) 592-3232 or email us at lodivet@lodivet.com.

About Our Obedience Classes
All classes are six week sessions and each class is one hour in length. Training classes are held in our large, indoor play area at our Lodi hospital. This area features a specialized rubberized flooring for safe training and play, as well as, additional acoustical measures for noise control. Smaller class sizes promote eective training and individualized time. Our instructors is passionate and highly skilled in dog obedience training.
Puppy Kindergarten Class (currently not being offered)
Puppy obedience classes get puppies off to a great start! It is critical that puppies learn basic obedience at a young age, as well as, how to appropriately interact with other dogs. Our training methods are fun, effective and taught so all family members can learn and participate
Unsure about which class to take? Feel free to ask us! We would be happy to help find the right class for you and your four-legged friend.
Puppy Kindergarten Class
Intended for puppies 8-16 weeks of age
Basic training of sit, down, and stay commands
Socialization with other puppies and environments, helping them to not be frightened of new situations.
Puppy II Class (currently not being offered)
For recent graduates of Puppy Kindergarten
Furthers training and incorporates more difficult tasks
Further socialization by focusing on attention while interacting with other puppies

FAQ's
What vaccinations does my dog need to take classes?
For puppy class, puppies need the first DHPP booster, a negative intestinal parasite test (ITP), and Bordetella.
For all other classes, dogs must be up to date on DHPP, Bordetella, Rabies, and have a current negative IPT on file.
What equipment do I need to bring to class?
A collar and non-retractable leash
Treats to reward your dog, a treat pouch is highly recommended.
Reward clickers are not used during class but encouraged for training outside of class.
What is the cost for classes?
Costs vary depending on the type of class – please ask us!
Meet Our Trainers
Maureen has been with LVC since 1997 and has been teaching puppy classes since 1997. Maureen enjoys watching
puppies and their families learn and grow together.
Carmen has been with LVC since 1985 and is an instructor for our Basic Obedience Class. She has over 20 years
of experience with training dogs for the obedience and conformation ring and continues her education through classes
and seminars.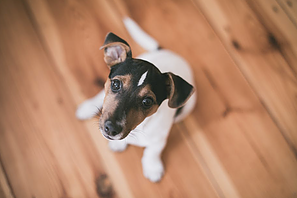 Using a travel kennel for your brand new puppy will prove invaluable. The puppy will look at the crate as a bed area which will aid in housetraining. The crate will also provide a safe place where your puppy will be unable to eat or chew unwanted items. When using...
Urgent Care for Companion Animals & Emergency Services for Equine & Livestock | 608.592.3232 | 705 N MAIN ST LODI, WI 53555 lodivet@lodivet.com